Edible Landscaping for a Small Yard June 2, 2021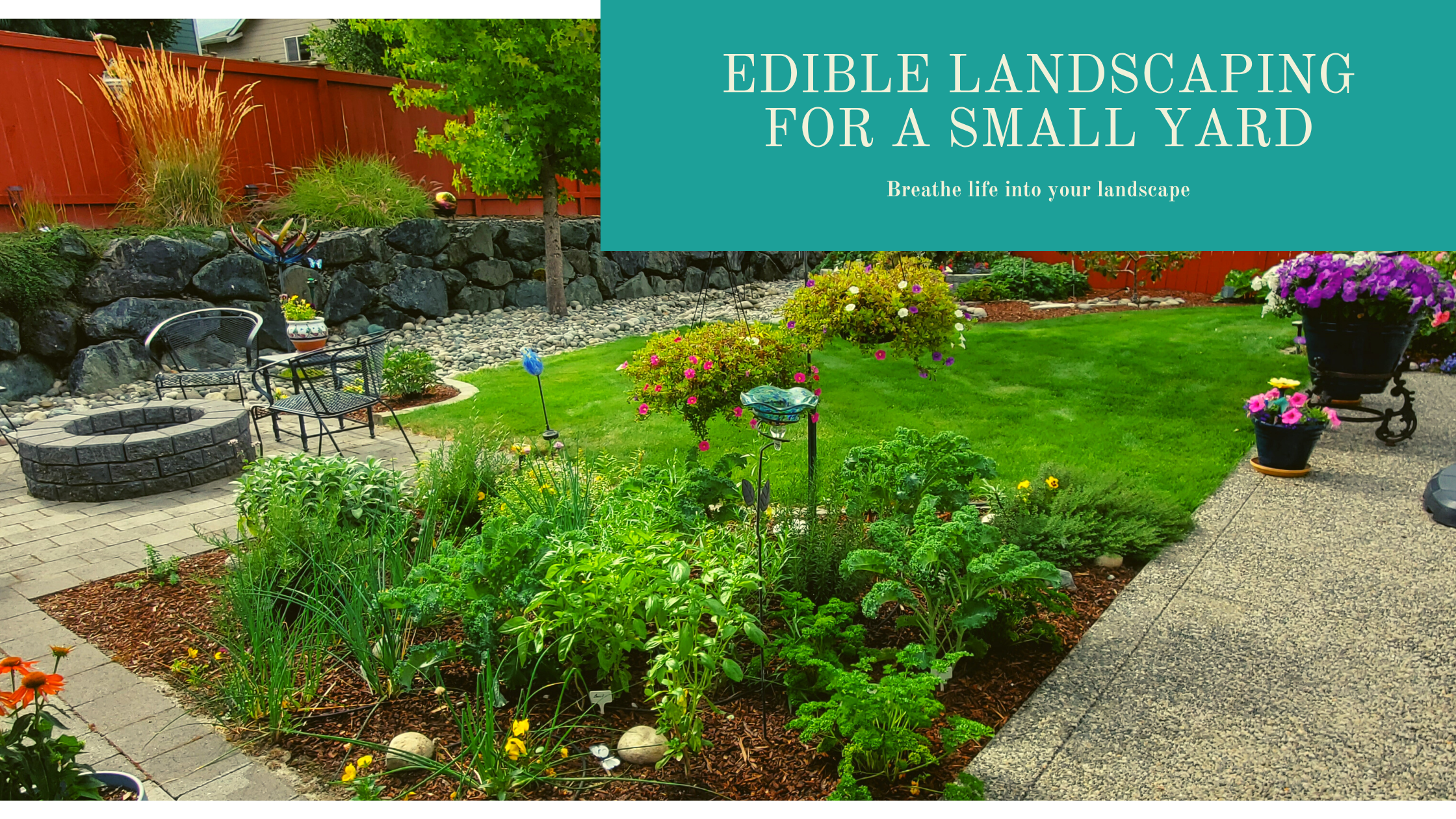 I always envy those who have sprawling space for gigantic gardens, a sea of fruits and vegetables. I also envisioned sending my kids out to the garden to pick out what they wanted me to cook for dinner, directly out of the garden. But many don't have room for a garden and still want to have fruits and veggies at the ready. Here are some great ideas for incorporating edible landscape into your small yard.
Privacy Screens
We've talked about blocking out nosey neighbors…. create a Living wall and enjoy your privacy and a snack.
Fruit Dwarf variety Cherry or Apple Trees. Service and Blueberries.
Of the Veggie variety, Pole Beans and Cucumber properly directed can create a nice green buffer as well.
Working Your Edible Plants into Traditional Landscapes
Let the landscape designer in you come out by creating a color theme for your edible landscape. Here are some ideas for your garden bed creation:
Purple: Red kale, 'Rosa Bianca' eggplant, 'Purple Beauty' bell pepper, chives
Yellow: yellow chard, yellow bell peppers, yellow cherry tomatoes, yellow California poppies, calendula, sunflowers
White: garlic chives, oregano, sweet alyssum (whites mix well with other colors)
Red: cherry tomatoes, cayenne peppers, red chard, red California poppies, nasturtium
Wake up your Walkways.
Lining walkways with plants softens the hard look of rock or paved paths. Here are some edible choices that will delight the senses and beautify the space.
Herbs for fragrance: chamomile, lavender, sage, lemon balm, rose (plant these along a walkway)
Create Visual Impact: swiss chard, lettuce, and kale are colorful and rich plants that make an excellent edge to a pathway. Blueberries or Elderberries make for a nice pick and go plant for walkways as well.
Edible flowers: anise hyssop, calendula, chives, elderberry, lavender, johnny jump-ups, nasturtium, runner beans (attract pollinators, too!)
Take Cover
Ground cover – for small spaces Strawberries are hard to beat. Here in the PNW they grow quickly and spread into even larger spaces for spectacular ground cover. For even bigger spaces try a squash or potato variety.
Better than Flower World Edible Baskets
Hanging Basket Combos – Cherry tomatoes basil and Marigolds are one of my favorite basket recipes with Strawberries and White Alyssum (not edible that I know of) use Thyme as a thriller if you want to.
Peppers, potato vines, and nasturtiums are a spicy mix! Also, gorgeous but I have yet to try…dill with pink cosmos, bronze fennel with white cosmos, basil with most flowers.
Try out some of these combos and let me know your favorites. Dream of producing more fruits and veggies in on an acreage property? Let us show you how. Homematch NW 425-359-0181