Take Care of Backyard Privacy Issues- 9 Ideas for Style and Privacy in a Small Space May 26, 2021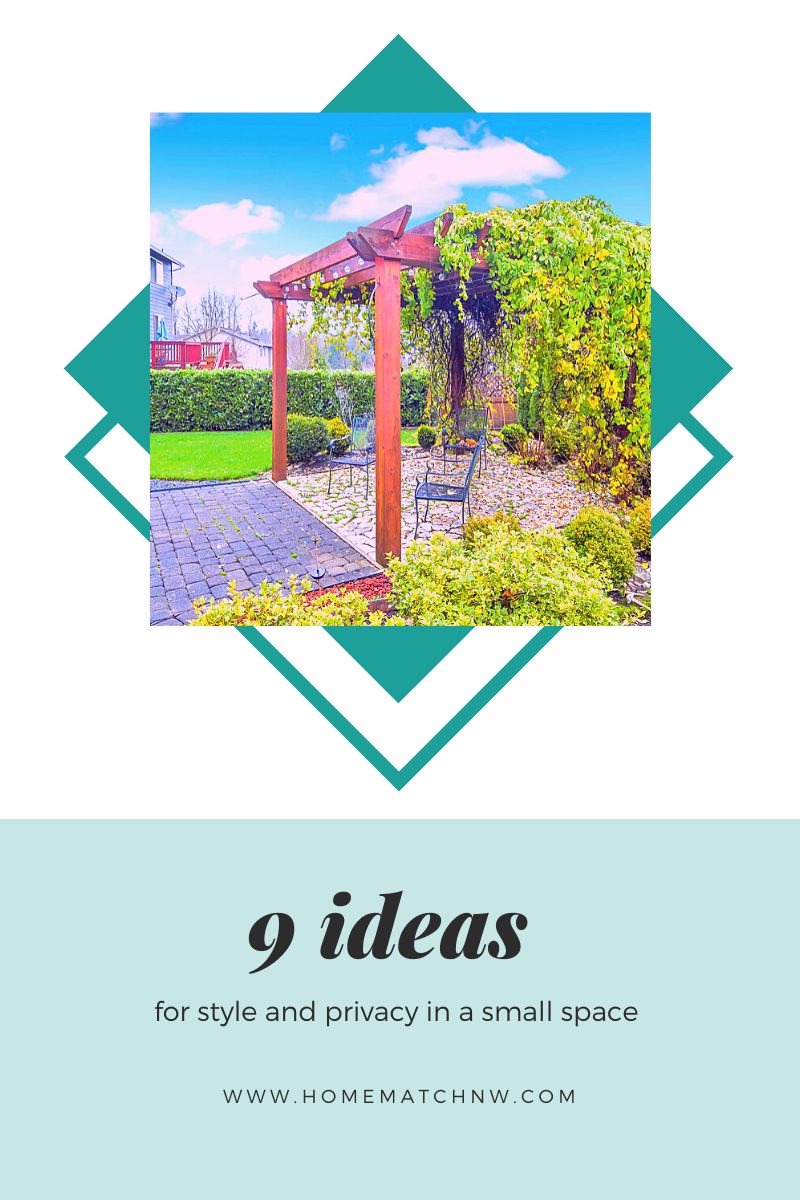 On sprawling acreage properties privacy is just a given, but if you are in town or a neighborhood with small lots it might seem like a luxury. Imagine your neighbors watching you as you entertain friends for a backyard BBQ or worse having a neighbor that is less than stellar at maintaining their property and looking at a stack of old tires or the side of your neighbor's house…not very relaxing! Privacy solutions come in many forms to suit your needs. Here are 9 ideas for projects that can be completed with ease maybe even just over a weekend.
Pergola – A favorite of my clients although a little more advanced project. Create a pergola with just wood or add some creeping plants like Jasmine or Clematis for added beauty.
Fold Out Privacy Wall – An easy project maybe even just a few hours. Purchase prebuilt fence panels at the hardware store add hinges and presto instant fold out privacy.
Living Privacy Wall – This year's backyard project for me I am going to repurpose some lattice I pulled off the bottom of the deck and add planted pots in brackets to hang from the lattice.
Grow a Living Fence – Arborvitae trees make a great living fence. A line of 5 to 10 Arborvitae can create a wall in no time. A trip to Costco and you can have a wall in a couple of hours. Buy some decorative pots to refine the look.
Try a Trellis – Buy a ready-made trellis or build one yourself and either brace in the ground or a decorative pot. Add climbing plants and other fun signs or accessories.
Conceal with Curtains – Use curtains to finish the look of a gazebo, pergola, or even just a less than private area of your deck. A lot of bang for your buck here. Customize your look light and flowy or patterned to give your space a themed feel.
Super-sized planters – My back up plan is super-sized planters. If my lattice living wall is a fail than I will be adding tall grasses to some large pots I have from last year to give us some privacy fire side.
Wall with Distraction – Build a wall. Haha, sounds plain but building a wall with fencing material or even a painted or stained piece of plywood can make a decorative backdrop for a fountain, plant, or outdoor accessories. Think of it like that fake beach background you have been using for your Zoom meetings.
I am going to try a Living Privacy wall this year. Do you have a spot in your yard where you could use some privacy and are thinking about a DIY project? What are you going to build? Share your successes in the comments!