The 10 Things You Need To Know About Capital Gains Tax On A Home Sale November 1, 2017

Most homeowners do not have to pay tax on the sale of their home. This is due to the Internal Revenue Service allowing you to exclude capital gains of up to $250,000 from a sale of your primary residence (if you qualify). However, before you leave capital gains off your tax return, there are some things that you need to know to ensure that you are fully compliant with the laws.




The Exclusion Only Applies To Primary Homes

To qualify for the exclusion on your tax return, the home you have sold will need to have been your primary residence. If you live and own more than 1 property, you can nominate one as your primary home.However, you cannot change this only to get a tax concession. There are certain tests which the IRS will apply to ensure that the nominated home is your primary residence. Some of the factors in these tests will include where you work, where your family spends the majority of their time and where you vote.




Amount of Time You Lived In the Home Is Important

If you want to claim the exemption for the sale of the property, you will need to have lived in the house for at least 2 out of the last 5 years before the sale. It is important to note that the 24 months do not have to be concurrent. You will still qualify if you lived in the house for 18 months, moved out for a year and then moved back in for a further 6 months.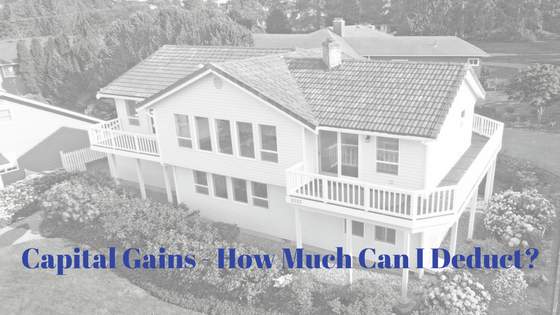 Amount of Time You Owned the Home Is Also Important
The amount of time that you have lived in the house is important, but you also need to have owned the home for a set amount of time. In the 5 years prior to the sale of the house, you will need to have owned it for at least 2 years. These months also do not have to run concurrently.
Unforeseen Circumstances Stop The Ownership And Residency Tests
If you experience any unforeseen circumstances which prohibit your ability to remain in the house for the required time, you may still be eligible for the exemption.Unforeseen circumstances include serious illness, a family death or your job moving to a location more than 50 miles away. If you experience any of these circumstances, you can still apply for exclusion if you sell the house before the 2-year qualifying period.
Your Maximum Deduction Could Be Less Than $250,000
For most homeowners, they will be able to deduct the gain of up to $250,000 from the sale of the house.However, if you have claimed through the unforeseen circumstances exclusion, you might be eligible for a part deduction only. If you have met all of the criteria, you will be able to deduct $250,000, but if you sell your home due to unforeseen circumstances 6 months into the qualifying period you can claim a fourth of this amount.
Married Couples May Qualify for Double
If you are a married couple that files joint returns, you can deduct capital gains from the sale of your home up to $500,000. To be eligible for this, both partners will need to qualify in terms of residency. The couple does not have to co-own the home and only one person will need to meet the ownership requirements.
There Is No Limit On The Number Of Times You Can Use This
Main residence tax exclusion is not a one-time deal. If you buy a home, live in it for 2 years and then sell it, you can exclude capital gains for your first home or your tenth home. As long as you meet the exclusion criteria you will be able to use this tax break.
Your Gains Could Be Lower Than You Think
When you sell a home you incur a range of expenses which lowers your gains. The costs of improving your home over the course of your ownership may also be deducted from the sale price to lower your taxable gains.However, regular home repairs which keep your home in a habitable condition such as fixing the gutter cannot be deducted.
You Do Not Have To Report The Gain In Most Cases
If you qualify for the exclusion, you will not have to report the sale of your home to the IRS.However, if you can only exclude part of the capital gain you will need to report it. You also need to report the gain if the IRS has sent you an income reporting form such as the 1099-S form.
Home Sale Losses Are Not Tax Deductible
It is important to note that any home sale losses cannot legally be deducted from your taxable income. The exclusion in these cases will apply only to capital gains. If you do make a loss on the sale of your home, you will generally not have to report this as it is not a gain.
** This article is meant for information purposes only. I am not an attorney, accountant, or your personal advisor. Be sure to verify all of this information with a tax professional to see if you qualify before claiming the deduction.
Your Realtor, Kerryann Pray
(425) 359-0181
Homematch NW
Keller Williams NWRE LLC